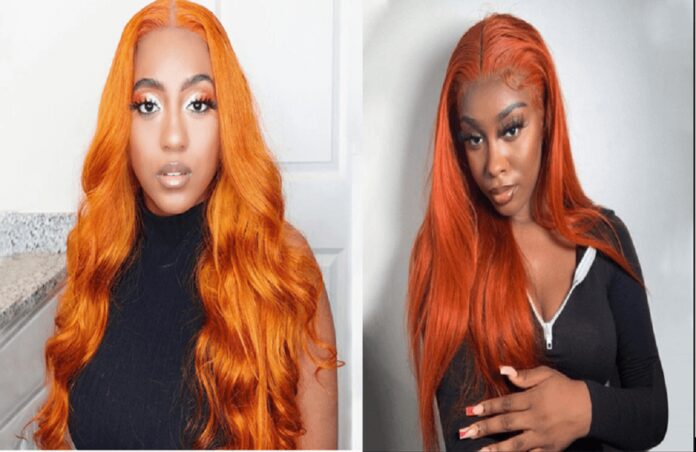 Looking for colored human hair?
With the changing of the season's new beauty care trends emerge. For some, at least. In this example, ginger orange hair is the current hair color trend sweeping the beauty industry. For individuals who like a more subtle seasonal shift, the term orange can make you think, "This isn't for me." However, just because you're wearing ginger orange makes you stand out from the crowd. Below are some of our top-colored wigs.
The Best All-Time Ginger Orange Wigs
Ginger Blonde Wigs
At Lolly Hair, we have the best ginger orange hair to suit our customers' needs. Ginger hair may be a deep burgundy, brilliant copper, reddish color, or a burned orange, red-orange, or strawberry blond color. It has a high concentration of reddish pigment pheomelanin. It also has a low concentration of the dark pigment melanin. It's linked to pale skin, lighter eyes, freckles, and susceptibility to UV rays. With many popular assumptions about redheads, cultural attitudes to red hair have ranged from scorn to respect.
Auburn Brown wigs
The reddish-brown hair color is in the middle of the red or brown. It brilliantly blends the greatest qualities of each of the hues. It's a more natural and refined version of the red wig. It's also a lot more vibrant and lively than a typical brown. When auburn hair trends toward the warmer end of the spectrum, it resembles ginger or copper.
Blonde Wigs
The blonde wig has great softness and breathability, and long service life. Blonde wigs fit a wide range of skin tones and are currently one of the most fashionable wigs. People of all complexions may wear this human wig since it is translucent, allowing it to fit in with various skin tones. A 613 frontal wig may make you appear more fair and wonderful if your skin tone is lighter. This wig will brighten your skin tone and provide fantastic visual effects if your skin tone is darker.
Highlight Wigs
Highlight wigs are an enhanced version of wigs that reveal two tones on many hair strands, generally in the front. It is one of the most popular colored wigs on the market, similar to a blonde highlight wig, and is well received by most customers. A highlighted wig is a popular choice for ladies who want to freshen up their image. After all, nothing boosts self-assurance like a new hairdo.
Ginger Orange wigs
There is a great ginger hair color for you based on your skin tone. A deep ginger color that is somewhat red is appropriate for someone with a fair skin tone since a deeper ginger color does not contrast as much with your skin tone as lighter ginger would. The perfect paint for folks with extremely pale complexions is undoubtedly more delicate and colorful. Ginger that is more orange in color will give you a more energetic look.
The wig will enhance your beauty and give you confidence. We have more colored wigs for every lady. You can purchase top-quality hair wigs from lollyhair.com.