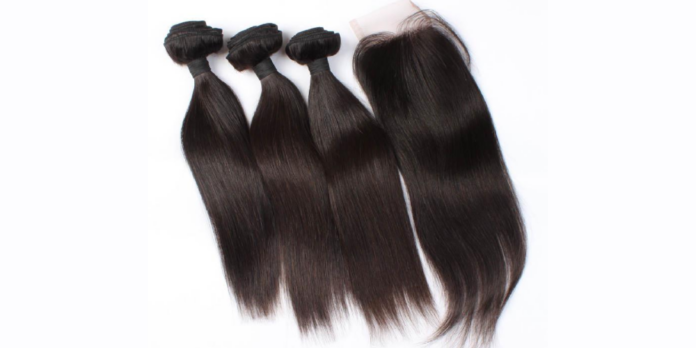 If you're searching for an add-on to your wigs, then you've come to the right place. In this article, we will talk about human hair bundles with closure. They're an excellent way to take your hair styling to the next level without stressing your pockets.
Introduction
Hair bundles with closure are one of the best features of low-cost wigs. After ordering hair bundles with closure, customers can sew hair bundles to wigs on their heads. After the hair bundles with closure are stitched together, they will create a stunning and entirely realistic hairline for ladies. Closures are typically 4 * 4 inches in size, and you'll need at least two bundles to complete your closure.
Human hair bundles with closure are made from the highest quality materials and will provide people with a comfortable wearing sensation, superior durability, and natural results. Moreover, as demand increases, the number of hair bundles with closure types expands.
Types of Closures
Closure hair is a headpiece that is typically made of lace or silk. However, lace is by far the most popular option. Also, to help protect your hair and improve its appearance, this hairpiece is connected to a cornrow base and fixed around the edge. There are two popular types of closures.
Lace Frontal Closure
The frontal lace closure is flexible, allowing individuals to have a combing back haircut while maintaining a lovely hairline. People with a thin hairline would like the frontal lace closure.
Human Hair Closure
It is a human hair closure. A lace closure's standard size is 4×4 inches, but a 5×5 inch human hair lace closure is also available in the market. The three kinds of available human hair closure are three-part, middle part, and free part.
How Many Bundles do you Need?
No one can give you a straight answer on the number of bundles you need. There are a variety of factors that sets the requirement of the bundles. Variables like style, length, and shape of the head also come to play while making bundles with closure.
Your Head Size
The number of bundles required for the closure will significantly depend on your head size. You'll need more if your head is bigger than the average head size and vice versa. For example, in the US, the average woman's head is 22.5 inches. Therefore, we advise taking a good head measurement before you buy any.
Texture
Two bundles and a closure seem more than plenty if you want silky straight bundles. On the other hand, 3-4 bundles are recommended if you need incredibly thick hair. However, an additional bundle would be enough to add extreme volume.
Hairstyle
The type of hair or hairstyle chosen affects the number of bundles needed. Generally, straight hair is less dense than curly hair. Therefore, a straight closure requires fewer bundles than curly hairstyle wigs for the same length and head size.
Length
As it's evident that the longer and more hair you want, the greater will be the number of bundles required. If you're going for a fuller look from root to tip, we suggest you buy more for your bundles with closure.