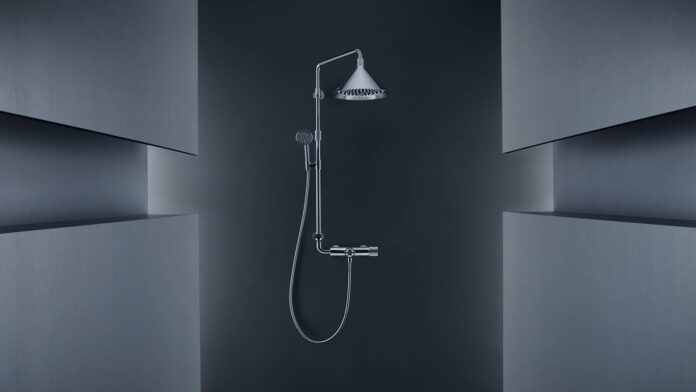 Nothing makes your bathroom space a fancy place than having a fully-functional and well-situated shower. For instance, a rail shower with overhead makes it easy to bath with a comfortable and satisfying experience. Maybe you have been wondering how you can upgrade your shower for a more sophisticated look. This piece will give you practical ideas on how to improve your bathroom by explaining different showerheads you can consider. Any of the following showerheads will make your bathroom space a better space on a reasonable budget.
Showerhead Types you can Buy for your Bathroom Improvement
Wall-Mount shower head
Also known as fixed or single showerheads, these types of showerheads and ideal for small apartments. They are meant to help you do the basic and simple bathing. They are easy to fix and quite pocket-friendly. In most instances, these showerheads will give you a basic flow rate. However, depending on the service provider, you can get one with varied water flow that will match your needs.
Rail shower head
A rail shower head is also known as a sliding bar shower head. The showerhead is attached to a sliding rail, making it easy and convenient to use. The best aspect about the rain shower head is that you can adjust the rails either downwards or upwards. If you have children around, this should be your perfect showerhead to adjust to reach any height.
Ceiling shower head
The ceiling shower head is also known as and top-mounted shower head. Just like the name, these showerheads are always fixed in the ceiling, then pray the direct water underneath like a rainfall. If you are staying with your spouse or alone, this could be a perfect shower head for you.
Handheld shower head
This showerhead is attached to a hosepipe, and they are a perfect idea for taking a full-body shower. When using a handheld showerhead, you don't need to keep turning your body around. They are the best budget-friendly and flexible showerheads you can have at home.
Rainfall showerhead
These showerheads are designed to release water in the form of rainfall. They offer a smooth and relaxing experience when taking a shower. If you can, you can mount them on the ceiling. However, the plumbing costs can be a bid higher, so make sure to plan for the budget first.
Twin Shower Set or Rail Shower Sets
These are among the most luxurious showerheads and have a handheld shower. Whichever your bathroom needs are, these twin shower heads will have you covered because they are highly flexible. Many homesteads are now preferring this option over other showerhead types.
Conclusion
Are you planning for your bathroom renovation? Or are you looking forward to installing a new shower head in your new bathroom? Well, you will find different types of these showerheads in the market. Understand your needs first, have a budget, then you can get any of the above showerheads. Each has advantages and disadvantages. Which one was your favorite?